Analysts say rise in 'counter-terrorism,' 'stability maintenance' cases indicate repressive judicial tactics.
By Mihray Abdilim and Alim Seytoff
08.03.2022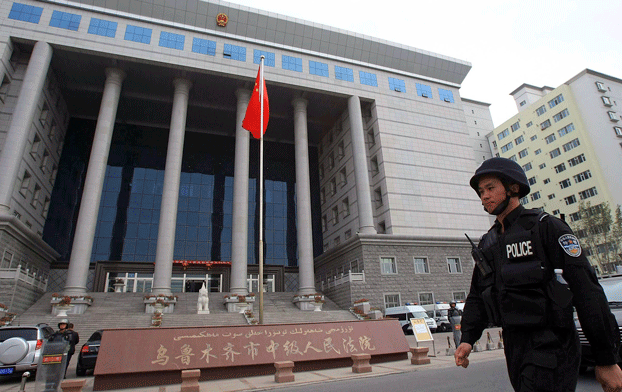 A Chinese policeman patrols in front of the Intermediate People's Court in Urumqi, capital of northwest China's Xinjiang Uyghur Autonomous Region, in a file photo.
Associated Press
Two reports released by officials in Xinjiang — one by the region's highest court, the other by a group of prosecutors — show China's strategy for constraining the Uyghur population is shifting from so-called "re-education camps" to prison.
The reports, which were published on March 3 on Tengritagh (Tianshan), the official website of the Xinjiang Uyghur Autonomous Region (XUAR) government, are largely a dry recitation of judicial statistics for the year. But scholars and analysts say the numbers represent a shift in strategy to use more official but still corrupt means to prosecute Uyghurs and other members of ethnic minorities in Xinjiang.
Public prosecutors, who collectively are known as the Procuratorate, detained nearly convicted more than 44,600 people in 28,490 cases involving about 12,900 different crimes, according to a work report read by Li Yongjun, who is the head of the XUAR People's Procuratorate, at the fifth session of the 13th People's Congress of the XUAR on Jan. 24.
Li noted that "the construction of a safe Xinjiang was effectively promoted."
In a readout of the 2021 work report, Chief Justice Bahargul Semet said that the region's courts handled 668,900 cases. Of those, 606,200 were closed to public review. The top-level Supreme Court, meanwhile, took up 5,820 cases — 5,271 of which were closed.
German researcher Adrian Zenz, who has documented China's abuses against the Uyghurs, said the number of cases and investigations in Xinjiang courts has nearly doubled since 2018.
That, and the fact that Uyghur-language translations are also increasing during trials, shows that, "Beijing's oppression in the region is shifting from mainly re-education to sentencing large numbers of Uyghurs to prison terms," Zenz said.
"Uyghurs are not released from the camps, but instead shifted into prisons," he said.
"Xinjiang continues to hide how many 'criminals' are sentenced each year," he said. "It stopped reporting this figure in 2018. This unfortunately indicates that the state is concealing its strategy of shifting Uyghurs from re-education camps to prisons to the outside world."
Teng Biao, an academic lawyer and visiting professor at the University of Chicago, who is an expert on China's judicial and legal systems, told RFA that that courts have become a tool of repression in Xinjiang.
'Numbers are shocking'
Ilshat Hassan, a U.S.-based analyst and vice chair of the World Uyghur Congress's executive committee, said he was shocked by the numbers of cases mentioned in the two court reports.
"This [new information] confirms these numbers, because there are so many people who still have yet to be sentenced, who are being detained indefinitely," he said. "They have committed no crime that would see them sentenced.
"Even those Uyghurs who have been sentenced have committed no crime," he said. "As a matter of fact, China is extralegally detaining Uyghurs in concentration camps. These numbers [in the 2021 work reports] represent just one small fraction of reality. Even so, the numbers are shocking."
Hassan suggested that the figures are a testament to the increased repression of Uyghurs and other Turkic minorities in Xinjiang in 2021, noting that many of the cases were related to "counter-terrorism" and "stability maintenance," which are indicators of repression.
"The numbers are very large, which shows the scope of the genocide," he said. "We cannot see any clear details about these cases, because China is keeping them secret. What we do know is that many Uyghurs have disappeared or gone into concentration camps without having gone to trial, without anything from the courts."
In her readout, justice Bahargul said that courts operated by the Xinjiang Production and Construction Corps (XPCC), a state-owned economic and paramilitary organization, handled 80,800 cases, 71,000 of which are now closed.
The corps, which also is known as Bingtuan, has been sanctioned by the U.S. for its involvement in human rights violations against Uyghurs.
That the Bingtuan tried such a high number of cases on behalf of the XUAR's Supreme Court shows the significance of the role that the XPCC is playing in repressing the Uyghurs, Hassan said.
"In particular, the Bingtuan is responsible for a large number of these [cases]," he said. "The Bingtuan is being used in the repression of the Uyghurs in carrying out a genocide against them."
China is believed to have held 1.8 million Uyghurs and other Turkic minorities in a network of detention camps in Xinjiang since 2017. Beijing has said that the camps are vocational training centers and has denied widespread and documented allegations that it has mistreated Muslims living in the region.
The report from the People's Court also noted the rise in court cases handled online.
Hassan of the World Uyghur Congress said there are problems with putting the legal process online.
"Looking at this in theory, the judge and the accused will not meet one another face-to-face," he said. "That will have an influence on the judge's verdict in the case."
"In China, in a context where there is no independent law, the verdict of the judge or the court is simply not taken into account in a large number of cases, and instead the word of the government organs or party organs behind them is what actually counts," he said. "This situation is widespread in China."
In her readout, Bahargul said the political role of the courts is to strictly and firmly rule by law and to maintain stability by paying close attention to ethnic separatism, religious extremism, and other acts of violence and terrorism, and always to ensure a high-pressure environment.
Translated by the Uyghur Service. Written in English by Roseanne Gerin.
Source: rfa.org